Katarina Landeka; Blank filmski inkubator; Hrvatska / Croatia; 5'00"min
Brod / Boat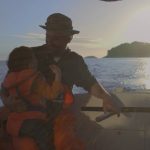 Život mornara s Korčule, oca petero djece različite dobi, koji voli isploviti uvečer, ribati i dočekati zoru na barci. Ujutro se vraća doma obitelji, a vikendima isplovljava s djecom i provodi vrijeme s njima na barci.
A life of a sailor from the island of Korčula, the father of five children of different ages. He likes to sail in the evening, fish and greet the dawn on the boat, and in the morning returns to his family. On the weekends he often sails away with his children and spends time with them on the boat.
Prizori koji bez puno riječi pričaju priču o mornaru i njegovoj obitelji.
Scenes that speak for themselves almost without words, telling a story of a sailor and his family. / Ana
Mélodie Cissou; Paris 8; Francuska / France; 9'18"min
Ce que je sais de ma mère / What I Know of My Mom / Što znam o svojoj majci
Ono što znam o svojoj majci ili ono što mi ona želi otkriti. Moja majka Lisa je uvijek bila poseban lik. Budući da ne znamo kako živjeti zajedno, zapravo i nismo živjele zajedno. Mislim da sam napravila ovaj film kako bih sama sa sobom analizirala naš odnos. Ali, kako je snimanje odmicalo, nad nama su se nadvili šutnja i ljutnja.
What I know about my mother or what my mother wants to show me. Lisa, my mother, has always been a persona in her own life. Because we don't know how to live together, we never really did. I think I shot this film as a desire to self-analyze our relationship. But as the filming progressed, silence and frustration settled on both sides.
Intimno, sirovo, ljudski.
Intimate, raw, human. / Ana
Nivin Chekor; Ironi High-School; Izrael / Israel; 15'00"min
Here is our sportscaster – ZIDAN / Ovo je naš sportski komentator – ZIDAN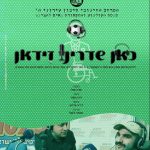 Priča o našem Zidanu.
A story of our dear Zidan.
Uhvatiti iskrenu emociju na filmu je neprocjenjivo. Ovdje se autor potrudio to učiniti više puta.
Catching a true emotion on film is invaluable. The author has succeeded in capturing these priceless moments more than once. / Tvrtko
Alexandre Slaiby; Independent /Notre Dame University – Louaize ; Libanon / Lebanon; 9'59"min
Iman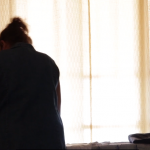 Majka priča o poteškoćama s kojima se susretala tijekom života prije udaje. Problemi postaju sve veći i složeniji nakon što sada sama mora podići svoja dva sina.
A mother talks about the difficulties she faced in her life even before her marriage. These obstacles keep on escalating and become more challenging as she is left alone to raise her two little boys.
Uronjenima u svijet i obiteljsku priču požrtvovne žene i majke, redatelj nam, s mnogo ljubavi, postepeno otkriva lice naslovne junakinje i sve tragove koje je život tamo utisnuo.
Immersed in the life and family history of a devoted wife and mother, we gradually discover our protagonist and the scars imprinted on her face by hardships of life. / Tvrtko
Juš Hrastnik; Independent; Slovenija / Slovenia; 12'30"min
Prelom / The Fault
Jure Žalohar je doktor fizike i geologije. Radi kao profesor fizike u Gimnaziji Kranj. Godine 2017. objavio je knjigu Omega teorija, u kojoj govori o mogućnosti predviđanja potresa. Suprostavljajući se mnogim znanstvenicima, Jure daje novu definiciju potresa iz koje proizlazi da potresi nisu nasumični događaji – njihova se snaga, dubina i lokacija može predvidjeti s visokom vjerojatnošću.
Jure Žalohar, PhD is a physicist and geologist. He makes a living by teaching physics at the Gimnazija Kranj secondary school. In 2017, he published his first book Omega theory, where he talks about the possibility of predicting earthquakes. Contradicting many scientists, he re-introduces the definition of an earthquake: earthquakes are not random events, but their magnitude, depth, and location can be predicted with probability.
Tko bi očekivao da će znanost biti ispričana na toliko bajkovit način? Gledajući film imamo dojam da nas priroda preplavljuje i istodobno zadivljuje. Zvuk planinskih potoka nadopunjuje krajolik, dopunjen neobičnom, jasno prezentiranom, znanstvenom tezom.
One would never imagine that science can be presented in such a way as to resemble a fairy-tale! Watching the film we become overwhelmed and amazed by the power of nature but we also learn of an interesting scientific hypothesis explaining its powers.  / Zuzanna
Frane Pekica; Independent; Hrvatska / Croatia; 4'54"min
Virus dobre volje / Goodwill virus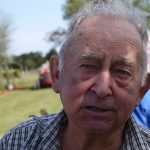 Kratki film prati starog radnika koji se nikada ne doima sretnim dok ga prati pjesma koja priča o tome kako je svima na koncert bilo fantastično.
A short movie following an old working man who's never feeling happy, followed by a song saying how everybody at a concert was feeling great.
Autor nije pokazao samo vizualni talent, već je i uokvirio sve zanimljivim zvučnim zapisom, koji je sastavni dio filma. Vrlo inovativan pristup.
The author exhibits an extraordinary visual talent while wrapping images in an interesting equally functional soundtrack. A very innovative approach.  / Zuzanna