Režija / Directed : Anna Maria Leventi – Independent, Greece / UK
ŽELJA IZNAD SMRTI / A WISH BEYOND DEATH
Odlična kombinacija forme intervjua, različitih animiranih tehnika i filmskih tehnika pridonosi napetosti filma. Pravi mali animirani triler u nekoliko minuta.
An excellent combination of the form of an interview, different animation techniques and motion picture techniques that builds the tension of the movie. A real little animated thriller achieved in a handful of minutes.
Režija / Directed : Laura Caf – Srednja šola za oblikovanje Maribor, Slovenia
PAUZA ZA PIĆE / DRINK BREAK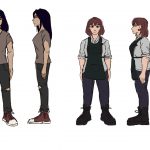 Film na vrlo upečatljiv način govori o ženskoj moći i afirmira snagu žene. Zanimljivo je da je radnja smještena u atmosferu u kojoj obično dominira muška moć i u kojoj se, tradicionalno, muškarci osjećaju superiornije. Prisutno je vješto poigravanje s klišejima i detaljima koji ih naglašavaju.
This movie talks about the female power in a memorable way and confirms the strength of a woman. It is interesting that the story is set in an atmosphere that is usually dominated by male power, in which men traditionally feel superior. The movie plays with clichés and details that emphasize them.
Režija / Directed : Ema Puljić, Martin Zadravec – Čakovec Animation school, Croatia
PETA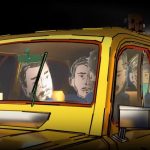 Kreativni zabavni kolaž na tragu psihodelije. Skraćena verzija može poslužiti kao uvodna špica nekog putopisa.
A creative and fun collage on the verge of psychedelia. A shortened version could serve as an intro to a travelogue.
Režija / Directed : Dražen Bošnjak, Marko Vukušić – Split school for design, graphics and sustainable construction, Croatia
PLAYBILL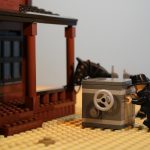 Duhovito, dinamično, vrlo vješto slijedi sve stilske značajke western filmova.
This movie follows all the stylistic elements of a western in a funny, dynamic and skilful way.
Režija / Directed : Lee Harshefi – Wild Kids Animation Studio, Israel
OD STANICE DO STANICE / STATION TO STATION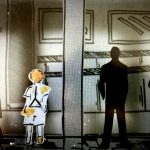 Izvrsno dočaran kontast između sivoga i svijeta u boji, statičnosti i kretanja, zastoja i života, starosti i mladosti.
A well depicted contrast between a grey and a colourful world, static and movement, pause and life, old age and youth.
Režija / Directed : Íñigo Álvarez Aguado, Antonio García Tardón – U-tad University, Spain
ZMAJEVE SUZE / LAGRIMAS DE DRAGON / TEARS OF DRAGON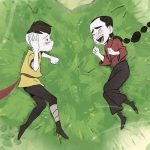 Snažan film o prijateljstvu i ljubavi koja osvjetljuje mračne dijelove šume, odnosno odleđuje i liječi mračne dijelove duše.
A powerful movie about friendship and love that lights up the dark parts of a forest, defrosts and heals the dark parts of a soul.
Režija / Directed : Jara García de Viedma Pérez, Shuangshuang Yu – U-tad University, Spain
BIJELI LEPTIRI / WHITE BUTTERFLIES
Poetičan film o snazi i pobjedi snova. U svijetu realnog i grubog dodir nježnosti je pobijedio, omekšao strogoću i donio nadu i snove.
A poetic movie about the strength and victory of dreams. In the world of the real and rough, a touch of gentleness has won and softened the strictness and brought hope and dreams.